When a domain is transferred, the nameservers associated with the domain will stay the same (e.g., ns1.OldRegistrar.com and ns2.OldRegistrar.com). HostGator nameservers are preconfigured for use with HostGator hosting and if you use their hosting services, these nameservers will not be disabled for your domain after the transfer. Thus unless you are using a different hosting provider, there is no need to worry about the downtime of your website after the domain transfer - the nameservers will function correctly and there will not be a need to re-configure any DNS settings for your domain.

In case you host your website with a different provider and your domain is using default HostGator nameservers, it is advisable to switch the nameservers of your domain to the nameservers of your hosting provider, this will help avoid possible downtime after the domain transfer.

Note: Domain Registration and Hosting are two completely different services, the domain transfer process will not migrate your website hosting to NityGity automatically. If you wish to transfer your hosting from HostGator along with the domain name, please submit a ticket to our Hosting -- TransferAssistance department here. We will be happy to assist you with moving your website hosting to NityGity!

Before submitting a domain transfer request with us please obtain Auth/EPP code (if applicable) from HostGator, make sure that the domain is unlocked and contact information associated with the domain is valid and up-to-date.

1. How to unlock your domain and obtain Auth code with HostGator:

Click on the domain name in question
Hover your mouse over the icons on the left and click Domain Locking: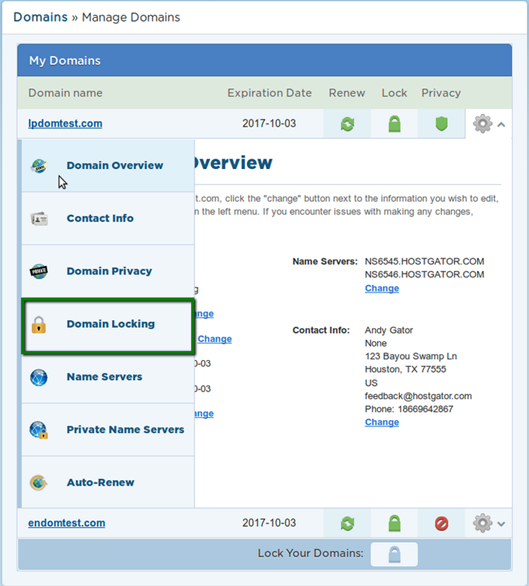 On the Domain Locking page, toggle the button to the Locking OFF position to unlock the domain and click Save Domain Locking to save the changes:

Click the Request Your EPP Key button to obtain your Auth code.
2. If Whois privacy protection service for the domain is enabled, you will also need to disable it.

How to disable privacy protection service with HostGator:

Log into HostGator domain management portal
Once logged in, go to the Domains tab
Click on the domain name in question
Hover your mouse over the icons on the left, then click Domain Privacy
On the Domain Privacy page, select the Public radio button to disable Domain Privacy and click Save to save the changes: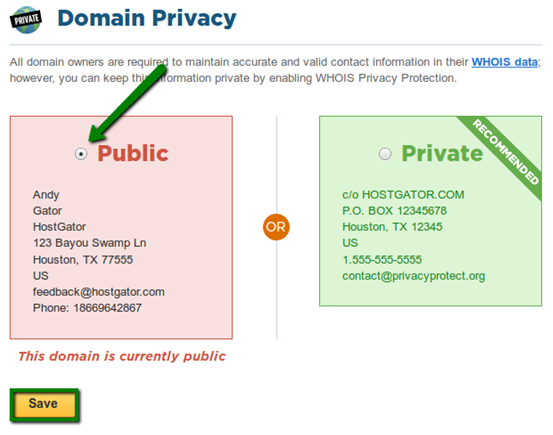 Once the domain name is unlocked and you have received your Auth Code, you may initiate the transfer to NityGity. Please refer to this article for more information on how to transfer a domain to us.

That's it!